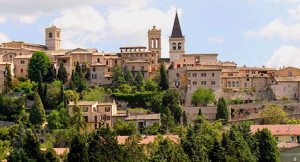 Spello blends its Medieval winding alleys and stone houses with a number of earlier Roman ruins, including the Porta Consolare (1st century B.C.), the Porta Urbica (or Porta San Ventura), and the Porta Venere—flanked by the two twelve-sided Torri di Properzio–from the Augustan age. The most important among its churches is Santa Maria Maggiore, dating from between the 12th and 13th centuries. Inside, the breathtaking Cappella Baglioni is decorated with frescoes by Pintoricchio, paintings by Perugino, and an antique Deruta majolica floor from 1516. The town is home to a number of Renaissance masterpieces by Pintoricchio, Perugino and Alunno, and the "Adolfo Broegg School of Medieval Music".
Though close to Assisi, the Franciscan Sources do not cite episodes in the life of Francis taking place in this town. That said, it must be remembered that the Blessed Andrea Caccioli–the first priest to join the Friars Minor–received his tunic for the Order directly from the hands of Saint Francis and was at the saint's bedside upon his death. His tunic and cowl are now on display in the sacresty of the church of Sant' Andrea.
Source: "La via di Francesco" – Edizioni San Paolo S.r.l.
Comune: Spello (Perugia) | Indirizzo:
Contatti