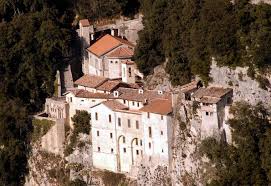 Seen from the outside, this sanctuary seems hewn directly from the surrounding mountain stone. The southern route begins here, but this is also the place where one of the most beloved Christian traditions began: the Nativity pageant. It was here, in the Cappella del Presepe, that in 1223 Francis prepared the scene representing the Nativity (FF 468-471; 612; 1186); the stone upon which he placed Jesus' crib is under the altar.
The land was donated to the friars by Giovanni Velita, but Francis wanted the sanctuary to be at least "a stone's throw" from the town. The citizens of Greccio had a child toss a stone, or a live coal, which landed on these rocks three kilometers away. Thus, the location of oldest portion of the sanctuary was decided by miracle. Many other miraculous events took place here; we recommend you arrive a day before departure on your pilgrimage to allow time to experience the history of this place and the message of Saint Francis. The dormitory–in the oldest section of the sanctuary–is rough and simple, with small crosses hung along the wall to indicate where each friar slept. Francis' Cella di San Francesco is carved directly from the rock.
Inside the sanctuary, you can visit the chapel containing the choir of Saint Bonaventure; the Cappella Nuova, with what is said to be the oldest image of Saint Francis by Jacopa de' Settesoli (unproven; this may be a copy of the original); the grotto of Saint John of Parma, where he was kept for 32 years before being rehabilitated; and the Chiesa Nuova, a modern building which blends well with the complex, inside of which the soft light and pretty windows create an atmosphere fit for reflection and prayer.
Source: "La via di Francesco" – Edizioni San Paolo S.r.l.
Comune: Greccio (Rieti) | Indirizzo:
Contatti