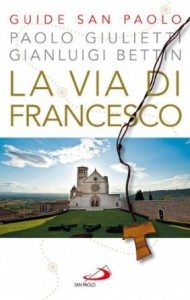 The official guide for pilgrims travelling the route of St Francis, created with Umbria & Francesco's Ways: a journey in St Francis' footsteps that reaches Assisi from both north and south.
It is a pilgrimage to gain insight into Brother Francis and his extraordinary experiences, which have fascinated people for centuries.
There are eight legs from La Verna to Assisi and ten from Greccio to Assisi (with alternate routes through Perugia and Terni), crossing the heart of Italy: the regions of Umbria, Tuscany and Lazio. The route, maps, number of kilometers, hours of walking, where to sleep and places to visit are indicated for each leg.
There is also information to request the pilgrim's credential, the official document of Saint Francis' Way, that you can use to obtain the "Testimonium Viae Francisci" once you complete your journey. St Francis and his places are introduced in the preface.
La Guida di San Francesco
ISBN-10: 8821574814 | ISBN-13: 978-8821574818

Peso di spedizione 299 g

Genere: religioni cristiane

Media recensioni: 4.3 su 5 stelle Visualizza tutte le recensioni (3 recensioni clienti)

Posizione nella classifica Bestseller di Amazon: n. 65.579 in Libri (Visualizza i Top 100 nella categoria Libri)

Formato: brossura, Illustrato